Graphic Designing In Kerala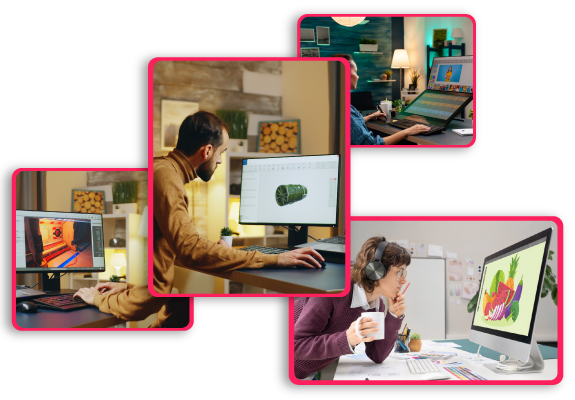 Graphic design is a dynamic and evolving field that continues to shape how we perceive and interact with information and brands. Through their artistic skills and technical expertise, graphic designers bring ideas to life, bridging the gap between creativity and effective communication. Whether in print or digital form, graphic design remains an essential aspect of modern visual culture.
We are passionate about creating visually stunning and impactful graphic designs that leave a lasting impression. As a creative graphic designing company in Kerala, we pride ourselves on delivering innovative and eye-catching designs tailored to your unique brand identity and business objectives. With a team of dedicated and talented graphic designers, we have the expertise and skills to bring your ideas to life.Our creative process involves understanding your brand identity and business objectives. This allows us to tailor our designs to suit your unique requirements, ensuring they align perfectly with your vision. 
We believe in pushing boundaries and thinking outside the box to deliver innovative and one-of-a-kind designs.Our designers are adept at blending artistic flair with technical proficiency, resulting in visually captivating creations that stand out from the crowd. We recognize the significance of design principles for effective communication. By carefully considering aspects like color theory, typography, layout, and visual hierarchy, we ensure your message is conveyed clearly and concisely. Whether it's a print advertisement, a digital banner, or a website interface, our designs are crafted with a focus on enhancing the overall user experience.  As a graphic design company, we understand that branding is a critical aspect of any business. Our expertise in branding enables us to create logos, business cards, and other marketing collateral that reflect your brand identity and leave a lasting impression on your target audience.
We work closely with our clients throughout the design process, ensuring that your feedback and ideas are integrated seamlessly into the final product. Your satisfaction is our ultimate goal, and we strive to exceed your expectations with every project we undertake.
Digitalbuddha offers a comprehensive range of services, including logo design, brochure design, product photography, posters & social media post, graphics & illustrations,  business card design, presentation and infographics creation, flyer design, T-shirt design, Flux design, letterhead design, banner design, and package design.
What Digitalbuddha Offers as a Graphic Design Company
Logo Design
A powerful logo is a symbol that speaks volumes about its essence and resonates with its audience. We specialize in crafting captivating designs that leave a lasting impression and become the visual embodiment of your brand's identity. 
Our team of skilled designers and creative enthusiasts is committed to bringing your vision to life while aligning it seamlessly with your brand's identity. We begin our logo design process with a meticulous analysis of your concepts and aspirations, ensuring we capture the essence of your vision. As an experienced logo design and branding company, we possess the proficiency to expertly translate your ideas into a striking visual emblem that resonates with your audience and reinforces your brand's identity.
Beyond crafting an exceptional and unforgettable logo, we go the extra mile by developing a comprehensive branding strategy. Our branding experts delve into your brand's core, understanding its values, personality, and aspirations. From logo design to typography, color palette, and brand guidelines, we ensure every aspect reflects your brand's unique identity and creates a cohesive and compelling visual representation.
Brochure Design
A well-designed brochure is an effective marketing tool that conveys essential information and leaves a positive impression on potential customers. It combines visual appeal, clear messaging, and strategic layout to deliver a compelling marketing piece for businesses of all sizes and industries.
We take pride in our expertise in brochure design, delivering powerful marketing tools that leave a lasting impact. Our comprehensive services cover every aspect of brochure creation, from conceptualization to the final print. We believe that effective communication is the heart of successful marketing, which is why our team of skilled designers and content strategists work hand-in-hand to craft visually stunning brochures with compelling messaging. Our tailored approach ensures that each brochure aligns perfectly with your brand identity and business goals, captivating your target audience and driving results. Whether you need a product brochure, corporate brochure, or event promotion material, we have the creativity and experience to make it a resounding success.
Product Photography 
Product photography plays a vital role in the success of businesses, especially those engaged in e-commerce services and marketing. In today's competitive business landscape, first impressions matter more than ever. High-quality visuals are crucial to building trust and credibility with your potential customers. When your products are presented in a polished and professional manner, customers are more likely to trust your brand and perceive your offerings as superior.
Our product photography services are designed to elevate your brand and showcase your products in their best light. We understand the critical role visuals play in capturing your audience's attention and influencing purchase decisions. With our team of skilled photographers and state-of-the-art equipment, we deliver high-quality images that make a lasting impression.  Whether launching a new product line or updating your catalog, our product photography services are tailored to meet your specific needs.
Posters and Social Media Posts
We specialize in crafting eye-catching posters and engaging social media posts that elevate your brand and drive meaningful engagement. As a leading provider of creative marketing solutions, we understand the power of visual communication to capture the attention of your target audience. Whether you're looking to promote an event, announce a new product, or simply enhance your online presence, our skilled designers are here to bring your vision to life. From captivating color schemes to compelling graphics and typography, every element is thoughtfully curated to create a poster that stands out in any setting. Our social media posts are meticulously designed to capture the essence of your brand and resonate with your target audience. We understand the ever-changing dynamics of social media platforms and craft posts that spark engagement, foster meaningful connections, and drive traffic to your website or online store.
Graphics and Illustrations
Our skilled designers and illustrators are dedicated to creating captivating graphics and illustrations that transcend the ordinary. From conveying complex information with simplicity to evoking deep emotions that forge connections, our visuals speak a universal language that breaks through barriers and leaves an unparalleled impact. Step into a world of artistic excellence and explore the boundless potential of captivating graphics and illustrations.